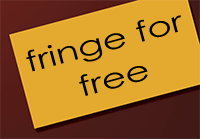 Wanna check out "considerable talents of the divas, who sing extremely well and with obvious joy." for free on Wednesday?  Well, you're in luck!
We have a pair of free tickets to Saucy Wenches in the Trenches playing at Free Times Cafe (Venue 22 – 320 College Street) on Wednesday July 8 at 6:00pm.  Head on over and have some fun!
To enter the draw, all you need to do is leave a comment* sometime before 4:00pm Wednesday.
More detailed information about the show:
Saucy Wenches in the Trenches at the Toronto FR!NGE Festival
1 Stage, 2 Divas, the Gloves are Off!
"Saucy Wenches in the Trenches", a cabaret-style musical comedy presented by 2 Hot Blonde Divas, is guaranteed to bring a smile to your face and maybe a tear or two to your eye.  The production, a presentation of THE FR!NGE, Toronto's (annual) Theatre Festival, will be performed nightly at the Free Times Café in Toronto, July 1 – 12, 2009.  Come out and be part of a wonderful evening of intimate live theatre.
"Saucy Wenches in the Trenches" tells the story of Juicy Lucy and Jaded Jessie, two hot blonde divas who clash over the trials of show business (and waitressing). With snappy, hilarious dialogue and a perfect blend of poignant and playful songs from Broadway     composers Stephen Sondheim, Charlie Smalls and others, Toronto-based actors and show creators Heather Dick and Carolyn Lykkemark (pronounced "LOOK-a-mark") give their audience a candid glimpse into the rivalry between a seasoned, cynical veteran of     the stage and a naïve novice.  In the ensuing battle, and despite dashed hopes (and lost tips), they come to realize that life itself is an art.  Live piano accompaniment is provided by virtuoso Toronto musicians Donavon LeNabat and David Atkinson.
   
Show Times: 
Wednesday July 1 – 6:00 pm 
Thursday July 2 – 6:00 pm 
Friday July 3 – 6:00 pm 
Saturday July 4 – 6:00 pm 
Sunday July 5 – 6:00 pm 
Monday July 6 – NO SHOW 
Tuesday July 7 – 6:00 pm 
Wednesday July 8 – 6:00 pm 
Thursday July 9 – 6:00 pm 
Friday July 10 – 12:30 pm MATINEE ONLY 
Saturday July 11 – 6:00 pm 
Sunday July 12 – 6:00 pm 
  
Venue: 
The Free Times Café, 320 College Street, Toronto 
Tickets: 
$10 at the door or in advance by calling THE FR!NGE Hotline at 416-966-1062.
   
Give yourself a much-deserved break by joining the audience for  "Saucy Wenches in the Trenches" at The Free Times Café, one of Toronto's favourite venues for live entertainment and great dining.  For more information, visit the show website at www.saucywenches.ca.
*be sure to include your email address in the email address field so I can reach you – it won't show up to people coming to the site.  If you won't be near your email, please send me an email at info@mooneyontheatre.com to let me know an alternative way to reach you – please include "Wenches Contest" in the subject line.