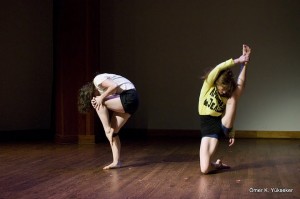 Christine Birch and Rhonda Baker get saturated in everything in moderation.  Two shows under their belts and here's a little interview with Christine to tempt you into a seat for the remaining shows. If you're reading this on Sunday – their next show is at 1:15pm today, so read the interview later and head on out to the show!
LR: I'm intrigued by the friendship that fuels this project. On your website it says you and Rhonda met on your first day of professional training. How has this friendship worked it's way into everything in moderation?
CB: The thing is with Rhonda and myself, there's never been a choreographer – dancer separation. Our "real life" happenings kind of seamlessly blend in to our rehearsals and vice versa.
Sometimes we wonder if other people work the same way we do or if laughing through half the rehearsal is abnormal…we just go with the flow I suppose.
We know each other so well it's hard not to let our friendship infuse into the realm and nuances of the work – we exist within it in a lot of ways even though the piece is not about us per se.
LR: What are your vices, those things you can't take or have in moderation?
CB: I would say technology would be my biggest vice and probably is the same for most of my generation. Rhonda and I spend far too much time on social networking sites for our own good although it is a great way for us to connect when we are in different provinces.
Even texting, checking email on a regular basis – there seems to be that need to stay connected to your online persona which I don't always think is a healthy thing.
It has become a major part of life though so it's very difficult to not be connected. Then there are all the normal vices like over indulging in music listening, beer and chocolate but those ones aren't so bad really!
LR: What made you want to embark on the Fringe Festival experience?
CB: I actually stumbled upon the Fringe Festival this year – I only submitted my name right before the deadline. When I found out I had been drawn I felt a mix of emotions including fear and excitement.
I co-produced a multi-disciplinary show in the Winnipeg Fringe Festival last summer so I had an idea of what Fringe is all about. I'm thrilled that I have the chance to produce dance work for an audience, which isn't necessarily exposed to dance.
As an interpreter to have a run of seven shows is also pretty fantastic and actually gives one the chance to realize the depth of the work. There is a lot of great energy surrounding the fringe festival and I'm proud to be dancing in a festival with so many other emerging artists in the dance community.
LR: What are the parallels between saturation/moderation and reality/fantasy? How do you link those two ideas, do you link those two ideas?
CB: Everything is relative to what you consider reality and what saturation is. For us – those lines are very close to one another. We joke a lot about obsessing or spending too much time on social media or over certain bands' music.
We often think that we're not living in the "real" world but then we have to ask ourselves what is real? I think people obsess as much about things they are addicted to as much as they do about trying to stay in control so I suppose in both situation balance doesn't really exist.
Fantasy most definitely can blend into reality very easily or at least in the daily life in the dance world. Like I said – it's a very blurry line…
LR: Is there a story to everything in moderation?
CB: There isn't exactly one solid story or plot going on – it's really just two different takes on what moderation means to us. You know all those things one struggles with and how we deal – sometimes it's plainly saying ****this and walking away.
The movement is brash, physically demanding, and also very human at some points. We're just two women having a lot of fun doing what we love to do.
LR: Thanks Christine for the interview and have a wonderful rest of your run at the Fringe!
by Rhonda Baker, Christine Birch & Tara Gaucher
(www.letsgetsaturated.wordpress.com)
presented by Christine Birch from Toronto, ON
Choreographer: Rhonda Baker & Tara Gaucher
Cast: Rhonda Baker & Christine Birch
Genre: Dance, Physical Theatre
Venue 6 George Ignatieff Theatre
45 min.
Wed, July 6 8:45 PM
Sat, July 9 Noon
Sun, July 10 1:15 PM
Tue, July 12 5:15 PM
Wed, July 13 9:15 PM
Thu, July 14 2:15 PM
Sat, July 16 9:45 PM
All individual Fringe tickets are $10 at the door (cash only). Tickets are available online at www.fringetoronto.com, by phone at 416-966-1062, in person at The Randolph Centre for the Arts, 736 Bathurst Street (Advance tickets are $11 – $10+$1 convenience fee).
Several money-saving passes http://fringetoronto.com/fringefest/passes are available if you plan to see at least 5 shows