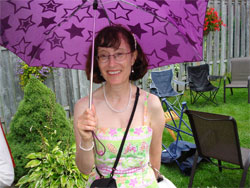 All 530 – and counting – members.
Thumbs Up Theatre Toronto is a Meetup group bringing folks together to head to the theatre.  It's the brainchild of Belinda Sutton from North York. She loves going to the theatre but doesn't like to go alone. Her friends were busy or not as interested in theatre as her. For about a year she searched online to see if there was any kind of theatre-going group in Toronto but couldn't find one.
One evening she decided to start her own group on Meetup. She did the whole thing, including choosing a name – sometimes the hardest part – in that first evening.
Belinda was hoping to attract 10 or 12 people who shared her interest in theatre in Toronto; to make some new friends to go to plays with. Imagine her amazement when Thumbs Up Theatre Toronto attracted 80 members in the first 24 hours.  Belinda said that there were times in that day when the group was getting a new member every minute.  Wow!
It's been just over a year and people keep joining the group.  When I spoke with Belinda last week there were 530 members. She said there's no real demographic profile, people come from all walks of life, more women than men – to be expected given who goes to the theatre – and some couples.
Who are the members?
The age range is all across the board but most people are in their thirties and forties.  I was surprised to hear that because the traditional theatre is a middle aged female – that's a nice way of saying a woman over 50 – but then realized that it makes sense because this is an online community.  It will attract younger people. Good news for Toronto theatre.
Some people are like Belinda, already theatre-goers but looking for people to go with. Some are theatre newbies; they'd like to go to see live theatre but find the idea a bit intimidating and would like to go with someone and see if they like it. Others have gone to what I call main-stream theatre – the big shows – and would like to branch out a bit.
Members aren't just from Toronto, they're from the GTA, the rest of Ontario, other parts of Canada and from the US. A lot of people, all interested in theatre.
How does all this work?
Belinda watches to see what's on in Toronto theatre.  She contacts the theatre to try and arrange a discount price for the group. She said that most theatres are very receptive.  Why wouldn't they be?  Getting new bums in seats is a priority for the survival of theatre companies.
She then makes an online announcement that includes the performance date – usually Friday evening or the weekend –  and a discount code if there is one. People buy their own tickets directly from the theatre and let the group know that they will be attending. Some theatres will try and get people seats together but it isn't always possible. That's ok though, you're going to be watching the show, not talking.
Belinda arranges a place and time for people to meet before the show. She introduces the newcomers and makes sure they feel comfortable.  They usually meet up again at intermission and then at the end of the show. Sometimes they go out for coffee or a drink.
What kind of theatre do they see in Toronto?
Everything.  And in Toronto that covers a lot of theatre. They go to the big productions but they also go to see shows at the smaller theatres, amateur theatre, university theatre, just about anything.
Belinda says that a lot of the members have thanked her for encouraging them to go to see performances they wouldn't otherwise have gone to, to move outside of their theatre comfort zone. A couple of people have said that they're addicted to theatre – something I can understand completely.
Theatre outside of Toronto
Belinda is branching out to include theatre outside of Toronto.  This weekend the 20 people in the group are going to the Shaw Festival at Niagara on the Lake. Belinda would like to be able to include theatre in Scarborough, Mississauga, Oakville, Oshawa and Barrie as well as in other Ontario towns.
So far she's hosted most of the shows that the group has seen.  In order to provide even more options she needs help.  If you're interested in hosting an evening of theatre contact Belinda and she'll explain what's involved.
This is such a great idea! There's no charge to join Thumbs Up Theatre, just go to the site and become a member. See great theatre and meet new people.