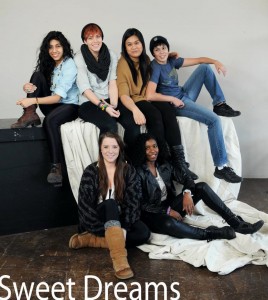 Is your sleep filled with unrest? Are you seeking some simple sonorous sedative to sing you to sleep? If this is the case, you will find that Sweet Dreams is more of a vocalized wish than an actual reality.
This young group of developing artists has decided to tackle material that directly affects their teenaged peer group. It is evident that these students are seeking opportunities to make their voices heard, as they question the notions of cultural and social acceptance. Through the support of development oriented organizations like the Paprika Festival, that possibility came true this year.
Playwright, Rebecca Daunt has developed a play that is centered on the relationships and cultural struggles of three teenage girls. While dealing with notions of sexuality, cultural family expectations, and shattered family structures, the characters must decide how they will define their own lives.
The script offers a lot of interesting material to work with, so there is room for this ensemble to grow and develop their characters. I thought that the actors were making very safe choices and I would be interested to see how their characters develop once they begin to savor their text and unite their words with their actions.
There was a distinct lack of movement on the stage, since the characters spend most of their time conversing in a coffee shop. I thought that this minimalistic directing decision would have been more effective if the action onstage was reflected by the physical responses of these characters to their conversations.
I did enjoy how the arrangement of the beginning of the play was mirrored at the end of the production. It was a theatrical directing choice that left me contemplating the relationship that existed between the characters. I would like to see more distinct theatrical choices, like this one. I think that would give all the characters a purpose, rather than having characters onstage who mostly move furniture.
This play has great potential to develop, and I would like to see this company tackle their script again. With a fresh set of eyes, supportive audience feedback, and bold performance decisions, they will be able to create a production that will effectively target and engage their student audience.
The teenaged audience was obviously interested in the content and fully supported the production with their enthusiastic applause. They will undoubtedly be even more interested once the company has the time to fully explore the theatrical potential of this script. That response would be the sweetest performance dream imaginable.
Sweet Dreams is prepared to challenge the notions of society and our responses to them. If you would like to witness the development and decisions of new young dreamers, then this is the show that you should see. Sweet Dreams is the place where the world of choice begins!
Details
Sweet Dreams plays at Venue 2 (Tarragon Extra) 30 Bridgman Avenue.
Showtimes are: July 06, Friday 11 pm; July 07, Saturday, 8:45 pm; July 09, Monday, 10:45 pm; July 10, Tuesday, 5:15 pm; July 12, Thursday, Noon; July 13, Friday, 7:30 pm; July 14, Saturday, 1:45 pm
 All individual Fringe tickets are $10 at the door (cash only). Tickets are also available online at www.fringetoronto.com, by phone at 416-966-1062, or in person at The Randolph Centre for the Arts, 736 Bathurst Street (Advance tickets are $11 – $9+$2 service charge)
Value packs are available if you plan to see at least 5 shows