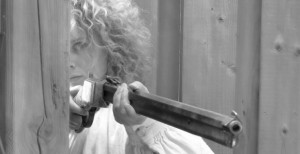 A mystery set in the late eighteen hundreds, Willow Bunch is a riveting tale that takes place in the Canadian prairies. Written and directed by Rona Waddington, it is about a young British schoolteacher named Clara (Tal Gottfried) who takes a position at the local schoolhouse and takes up residence on an eriely quite edge of town.
She has come to town looking for information on her family and past and she soon crosses paths with Rylatt (Jonathon Purdon), who serves as a sort of sheriff and caretaker for the pioneer village. Clara is an unmarried and pregnant young woman and this makes all involved uneasy.
Clara lives with her sister Emily (Kate Besworth) and her arrival in the town has deeply troubled the town's medic, Arden (Matthew Edison). Rounding out the cast is Lou (Jane Johanson); a Brandy swigging lady from both Rylatt and Arden's past. There is another character in the play – a nameless young man who it is suggested has fathered Clara's unborn child. I loved the idea of creating this character but never meeting him on stage.
An animal's body parts are tossed into Clara's yard. More gruesome and mysterious things begin to happen and there seems to be a hazy dustbowl quality throughout. There are things that aren't quite right, and everyone has their own version as to why.
It has been a while since a play had me on the edge of my seat the way this play did but I was fully engrossed in the world and people of Willow Bunch. The dialogue and characters are so tightly crafted that I was nearly biting my nails. I would rather not spoil any moments by conveying the many twists and turns, but I will say this is one play where there is no useless information. Every moment leads to a bigger moment, culminating in a truly satisfying end the way only a good mystery can.
I enjoyed David Ring's set and lighting although I would have loved to see the characters play in the whimsical white drapes of the set more. I thought each performance balanced the piece perfectly, and I loved the pioneer style of dialogue. I did find myself a bit confused by the character of "Lou" – I wasn't exactly sure in terms of why she was there. This is a show that I would almost like to watch again, as I am sure I missed a few things. It was definitely a great show to watch on a dark and rainy night. If this were a CBC serial, I would have my PVR set every week!
Details:
Willow Bunch is playing at The Factory Theatre Mainspace
Show times: Fri. August 10, 7:30 PM, Tues. August 14, 10:00 PM, Sat. August 11, 5:00 PM, Sat. August 18, 5:00 PM, Sun. August 12, 7:30 PM, Sun. August 19, 10:00 PM
All individual SummerWorks tickets are $15 at the door (cash only). Tickets are available online at 

http://ticketwise.ca

, By phone by calling the Lower Ossington Box Office at 416-915-6747, in person at the Lower Ossington Box Office (located at 100A Ossington Avenue) Mon. – Sun. 12PM-7PM (Advance tickets are $15 + service fee)
Several

money-saving passes

are available if you plan to see at least 3 shows