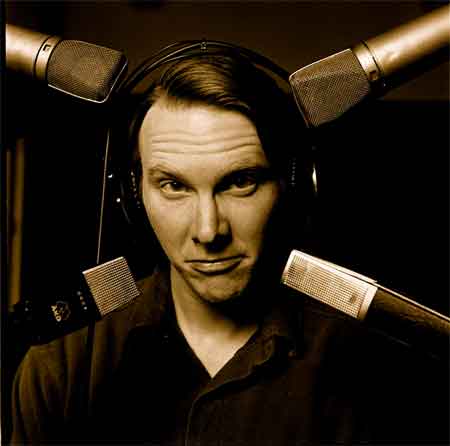 Radio :30 opened tonight to a full house so if you want to see it make sure that you arrive early to get tickets.
I'm not sure that there is a 'typical' Fringe show but if there is Radio :30 isn't it. It's a fine example of what a Fringe show can be when it grows up. Chris Earle wrote Radio :30 and performed it at Fringe in 1999. Since then it's won both a Dora and a Chalmers award.
Earle gives an absolutely perfect  performance. He knows the play intimately and it shows. It really feels as if we're watching him in a studio recording a 30 second commercial. It's a joy to watch such a talented performer who is so comfortable with his material.
Shari Hollett's direction is terrific. They are a great team.
The show starts with Ron (Earle) in the studio getting ready to record the ad. He just seems like a typical voice-over guy, selling whatever it is the client wants today. He talks with Mike – unseen though the show – the director who is with the clients – unseen and unheard through the show). While he waits he talks to the audience telling us about his voice-over career and sharing some tricks of the trade.
It's all quite funny but then you notice an undercurrent of regret and sadness. It's a very touching play.  I can understand why it was a sold-out performance.  It was a wonderful first show to see at Fringe this year. It felt like a gift.
Details:
Radio :30 is playing at Tarragon Theatre Mainspace (30 Bridgman Ave)
Showtimes are:
July 05 01:15 PM
July 07 04:45 PM
July 09 05:15 PM
July 11 09:45 PM
July 12 07:00 PM
July 13 02:15 PM
All individual Fringe tickets are $10 ($5 for FringeKids) at the door (cash only) and go on sale one hour before showtime. 50% of tickets are available in advance and are $11 ($9 + $2 service charge), these can be purchased online at www.fringetoronto.com, by phone at 416-966-1062 ext. 1, or in person during the festival at the Festival Box Office in the parking lot behind Honest Ed's (581 Bloor St W).
Value packs are available if you plan to see at least 5 shows
Please note that there is absolutely no latecomer seating during the Toronto Fringe Festival.
Photo of Chris Earle