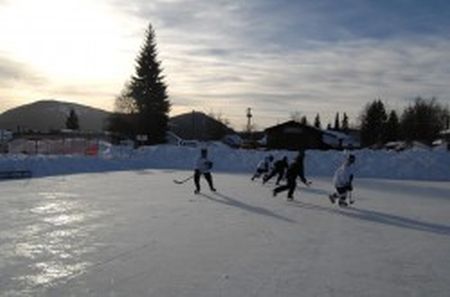 Most people hear clichés like "No pain, no gain "and "Work hard and you'll get ahead" all the time. Most of us take this advice with a grain of salt. Jonah Allison, performing his one-person Fringe show Network 54: Sports R4U, reminds us that in the world of junior hockey in Canada, words like these aren't adages- they are gospel.
Allison's show is being performed at a temple where The Toronto Maple Leafs used to play, Maple Leaf Gardens. If there is a more storied venue in Canada, I've never heard of it. If there is something more intrinsic to Canadians than hockey, and trying to be good parents, I'm oblivious to it.   So when I first looked at the Fringe schedule and saw the blurb for this play, I  immediately knew that it was "game on"!
The play is based on a hockey coach who posted his locker room pep talk speeches online. The reaction was the online equivalent of a bench clearing brawl. Allison recounts the pep talks and the reactions. He does it in a really interesting way, at times a  coach trying to motivate his team, at other times a friend we are sharing a beer with in the back yard. All the while, a hockey game is going on next door, a few stories down, so the sounds of scoreboards and pucks bouncing off of goalie pads and boards creates familiar and comfortable atmosphere.
If you are a religious person, you might consider what Allison delivers to be a sermon. A sports junky might find his performance to be white noise. The people in the audience, on the day we saw it, considered it brave, insightful, thoughtful and long overdue.
What Allison does is root around the online world of hockey moms and dads. He mines the online rantings of parents and coaches, which are often ridiculous but sometimes profound. He opens up a "hockey bag" exposing the guts, the conscience of Canada, and maybe it really stinks at times. By doing so, he questions a lot of very fundamental Canadian beliefs. He takes no prisoners, but he makes no judgements. I think what he is really trying to do is to improve "the  game". He asks  "Does it really have to smell this way?" CBC are you listening?
Network 54: Sports R4U is a very brave, essential play. One doesn't have to be a sports fan or even a parent to enjoy and learn from it. Imagine Spalding Grey meets your cousin who lives in his basement and loves sports.
It's not an easy venue to get to, but like they say, "no pain, no gain". If you've been to an event at Maple Leaf Gardens before or have kids playing hockey, this play will expand your perceptions, your mental horizons.
This is a very worthwhile show, go check it out!
Details:
Network 54: sports r4u-98 and younger gthl-omha-alliance is playing at  Maple Leaf Gardens Alumni Lounge, 50 Carlton Street
Show times:
July 03 08:00 PM
July 04 08:00 PM
July 05 08:00 PM
July 06 08:00 PM
July 10 08:00 PM
July 11 08:00 PM
July 12 08:00 PM
July 13 08:00 PM
All individual Fringe tickets are $10 at the door (cash only). Tickets are available online at www.fringetoronto.com, by phone at 416-966-1062, in person at the Fringe Club, 581 Bloor St. W, July 3rd-14th, noon – 10pm (Advance tickets are $11 – $9+$2 service charge)
Value packs are available if you plan to see at least 5 shows