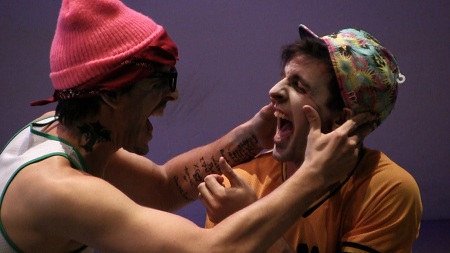 A Quiet Sip of Coffee , playing in the SummerWorks Festival, is subtitled "This is not the play we've written", so it seemed obvious that there would be some meta-theatre involved. There is, and a whole lot more as well – it's a meta confessional docu-drama about sexuality, the dark corners of friendship, and the fallibility of memory. It's also a play within a play within a play. The story that the audience knows is true is that these two guys did experience some version(s) of the disturbing events of 2004 that they try to recreate during the show.
Anthony Johnston and Nathan Schwartz were best friends despite Anthony being gay and Nathan being straight. Shortly after graduating theatre school they wrote a letter to one of those horrible gay conversion camps, asking for funds to help develop a play that they claimed would promote the values of the organization.  (If you're not familiar with the concept of gay conversion, that means you've never seen But I'm A Cheerleader, which I invite you to rectify.)
The terrible camp says they will fund the play, but the guys have to attend a two week conversion course. They decide it will be a lark, and agree.
Those are the facts that both parties agree upon. What actually transpires at the camp is sometimes agreed upon, but certain crucial events are remembered differently by each. Some of the scenes seem to even call the nature of their previous friendship into question. It reminded me, in a way, of Capturing The Friedmans, a movie that is also about how traumatic past events cannot be credibly remembered by anyone involved.
During their stay at the camp they have to fulfill their promise to develop a play, which is about a werewolf – a symbol for the 'beast' of homosexual attraction lurking inside a man. This play is a pantomime, complete with melodramatic movement and mask.
The recreation of these scenes was not, apparently, in the first iteration of A Quiet Sip of Coffee, as the director at the time didn't consider it relevant. This director brought the two men together after seven years estrangement on false pretenses, in order to make that original show. So this new play also explores the relationship dynamic and conflict that happened during that original show's  development. It may sound confusing but on stage it's not.
On stage it's alternatively hilarious, disturbing, bizarre, and touching. It's also impressive, as it's a very physical show, but also one that must be emotional for the performers. Yet they commit fully to dancing their little jigs and miming cannibalism, interspersed with emotional breakdowns and accusations of sexual impropriety.
It makes sense though: theatre at its best is cathartic for everyone involved: those on stage as well as seated in the audience. A Quiet Sip of Coffee is cathartic and wonderful and highly recommended.
Details
A Quiet Sip of Coffee plays at Scotiabank Studio Theatre (6 Noble Street)
Showtimes:
Friday August 8, 9:30pm
Sunday August 10, 7:30pm
Monday August 11, 5:00pm
Tuesday August 12, 8:00pm
Wednesday August 13, 10:00pm
Saturday August 16, 6:00pm
Sunday August 17, 1:30pm
All individual SummerWorks tickets are $15 at the door (cash only). Tickets are available online at http://summerworks.ca, By phone by calling the Ticketwise Call Centre at 416-907-0468, in person at the SummerWorks Info Booth – located at The Theatre Centre (1115 Queen Street West) August 5th-17th from 10AM – 7PM (Advance tickets are $15 + service fee)
Several money-saving passes are available if you plan to see at least 3 shows
Photo by Lily Jamali