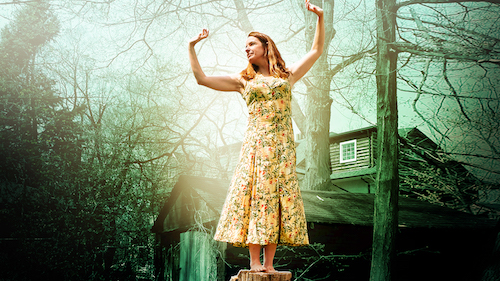 She Grew Funny at  2017 Toronto Fringe Festival is the work of a comedian and television writer working in a new idiom, and that's more or less my favorite thing about Fringe. I like when talented people take risks. I like seeing the new, fresh things they make while they're still wobbly and damp as colts, though I know they may be uneven. This was, but I still found it worthwhile.
She Grew Funny is the story of how Joanne O'Sullivan is grappling with the fact that her daughter, Eliza, is turning six, which is the same age she was when her mother (Anne) died of cancer. It's bringing up a lot, and in the grand tradition of showbiz people O'Sullivan has chosen to process her feelings by writing a solo show about them (I do not judge; I got through a divorce the same way).
An audience member must know going in that this show will have hard moments (and it does), and that they will be lightened with comedy (they are).
My biggest complaint about the show is that O'Sullivan didn't seem to know it. Her performance was hurried and somewhat stilted. It didn't leave much room for the audience to join her in her feelings, to laugh, to ride the wave with her. I felt rushed from beat to beat as though it were a PowerPoint presentation of ankle socks from around the globe, and I wanted to put on the brakes and have a little time with what was happening. Less an issue of talking too fast than of delivering each line as though it were of equal import.
They're not.
The writing here is great, which is both excellent and also further compounds the "wait, stop, what?" problem. O'Sullivan is generous with her observations, even when she's a little implicated, and has a healthy dollop of compassion for herself that keeps her from descending into a single note of sorrow and self-recrimination.
In my opinion, She Grew Funny is lively and affecting work, and as soon as O'Sullivan realizes that it will improve past "interesting" and into something better.
Details
She Grew Funny plays at the Factory Studio. (125 Bathurst St.)
Tickets are $12. The festival also offers a range of money-saving passes for serious Fringers.
Tickets can be purchased online, by telephone (416-966-1062), from the Fringe Club at Scadding Court, and — if any remain — from the venue's box office starting one hour before curtain.
Be aware that Fringe performances always start exactly on time, and that latecomers are never admitted.
Content Warning: Mature Language.
This venue is accessible.
Performances
Friday July 7th, 01:15 pm
Saturday July 8th, 09:00 pm
Sunday July 9th, 01:00 pm
Tuesday July 11th, 02:45 pm
Wednesday July 12th, 11:15 pm
Thursday July 13th, 06:00 pm
Saturday July 15th, 07:30 pm
Photo of Joanne O'Sullivan by Jonathan Ellul