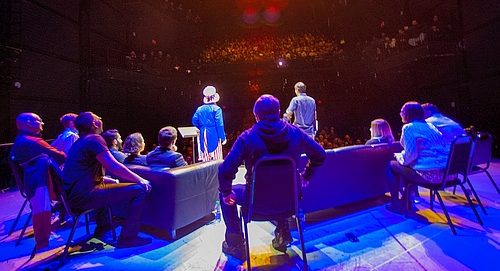 Toronto takes to the stage to celebrate the coming of 2020 this NYE
It's New Year's Eve. Time to wave good-bye to 2019, and welcome in 2020. I think a pretty fantastic way to do that is by checking out a live show. I have seen so many "things to do in Toronto on NYE" lists, and they almost all seem to be lists of big expensive parties. So I decided to make my own "things to do in Toronto on NYE" list – Mooney on Theatre style.
My parameters were that it had to be a live stage event; it had to be $35 or less; and, of course, it had to be in Toronto.
I love the idea of going to a show on NYE. I get to go out and experience the atmosphere of revelry and excitement, and, of course, enjoy something on stage. And, I get to still do the official "ring in the New Year" part in my living room (if I manage to stay awake until midnight).
Maybe you are more of a party animal than me (do you have a pulse? You are probably more of a party animal than me then.) Maybe you would like to ring in the New Year surrounded by excited people. You still can. Once the show is over, you can continue to whatever type of NYE celebration suites you best.
Either way,  spending some time with live performance seems like an excellent way to usher in the New Year.  And, without fanfare or flourish, here are my suggestions of things to check out:
Theatre
Other than the standard Mirvish offerings, there isn't a lot going on in terms of traditional theatre on NYE. But there is one gem. December 31 is the first preview of Hannah Moscovitch's new play  Sexual Misconduct of the Middle Classes.  Moscovitch is an incredible playwright, the kind of playwright where you hear about a production of a new play of hers and so you go. You don't bother finding out what it's about first. Tickets for tonight's preview performance are $30 (Arts worker and Student tickets $23 with proof/id).  The listing for the piece is:
Sexual Misconduct of the Middle Classes (Tarragon Theatre, 30 Bridgman) by Hannah Moscovitch. The archetypal "student-teacher romance" gets turned on its head and re-envisioned for the post-#MeToo era. Previews from Dec 31, opens Jan 8 and runs to Feb 2, Tue-Sat 8:00 pm, mat Sat-Sun 2:30 pm & some Weds 1:30 pm, see website for more info and tickets. $22-$70.
Comedy
There was a lot more to choose from in comedy. Clearly, producers assume people are ready to laugh on NYE and really, why not?
The highest-profile comedy event is Your Hood's a Joke: New Year's Eve Special. This NYE edition of the popular roast comedy show is taking place in the Mirvish-owned CAA theatre. The raked theatre seating and the energy of a much bigger crowd will make this night feel different than one at your local comedy club.  But the premise is no different than Your Hood's a Joke the rest of the year, much like the one MoT reviewed earlier this year. One heads-up about this one, it always sells out. If it were me, I'd be ordering my tickets right away and not risk trying to buy them at the door, but you can always try for ones at the door if you miss your chance online.
Your Hood's A Joke: New Year's Eve (CAA Theatre, 651 Yonge) Toronto Comedy All Stars presents the NYE edition of the territorial roast battle-style comedy show with host Danish Anwar. Featuring: Scarborough vs Etobicoke, Brampton vs Mississauga, East Toronto vs West Toronto, Ontario vs Nova Scotia, Italy vs Eritrea and India vs China. Dec 31, 2019 8:00 PM $25-$35.
If you do try to buy your tickets at the door and find they are sold out but are still in the mood for standup, Comedy Bar has you covered.  They have a show starting at 9 pm – so, enough time to get yourself back on the subway station and over to Ossington Station using TTC's free NYE service. The show is called Showcase Supreme NYE. There aren't a lot of details on this one, just that they are "extended sets," but from what I know of the three comics, they are all great. *UPDATE* this one is showing sold out on the website.
Showcase Supreme NYE (Comedy Bar, 945 Bloor W) Extended stand-up sets by Nile Seguin, Rebecca Reeds and Craig Fay. Dec 31, 2019 9:00 PM $17. *UPDATE* this one is showing sold out on the website.
If you feel like maybe you're more in the mood for improv though, no worries. Bad Dog Theatre, also near the Ossington Subway stop, is presenting one of their popular weekly offerings at 8 pm, Hookup – an improvised romantic comedy. If you want to do all your partying for the night in one place, then Bad Dog might just be that place. After Hookup, Partytown takes the stage at 10 pm. Your ticket to that includes a glass of bubbly to ring in the new year, and the show itself includes drinking games and audience interaction.
NYE Hookup (Bad Dog Comedy Theatre, 875 Bloor W) Bad Dog presents the improvised romantic comedy about the likes and dislikes, turn-ons and turn-offs of two random audience members, at 8:00 pm ($30, adv $25) Dec 31, 2019, 8:00 PM to 10:00 PM
Burlesque
And, finally, if drama doesn't draw you in, and comedy doesn't call to you, perhaps you'll want to heat things up a bit with some burlesque.  I admit to knowing nothing about this event or the people involved. Still, I love me some burlesque, so I figured I'd put it in here.
Bite Burlesque: NEON NYE 20 (Cherry Cola's Rock 'n' Rolla Cabaret & Lounge, 200 Bathurst, Toronto) Ferrera Rose, Franny Panties, Genie Emerald, Rubie Magnitude, Thrasher, Zyra Lee Vanity and others perform, DJ Johnny B Goode is on the decks to lead the dance party till 4 am. Dec 31, 2019 Doors 9:30 pm, show starts at 10:30 pm. Tickets from $25 (early bird).
Photo from a previous NYE edition of Your Hood's a Joke