By Olya Ryabets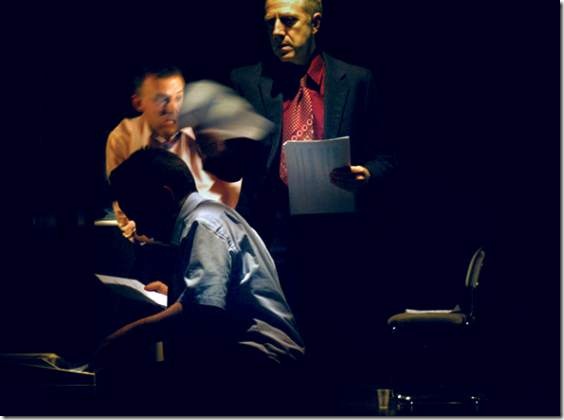 The Cleansing of Constance Brown is the last show of this year's World Stage Festival at the Harbourfront Centre. It's created and performed by the members of the experimental British company Stan's Cafe and is well worth seeing. The company tells us that the performance "has been made with love" and it shows.
This is one of those shows you should rush out and get tickets for this minute, because not only is it a VERY short run – the show closes May 9th – but there is only room for 35 audience members per show.
The Cleansing of Constance Brown is a series of non-verbal sequences set to music and presented in a constantly transforming corridor, which actors, moving through time periods and a variety of human institutions, enter and leave by way of mysterious side doors.   As you form your own unique ideas of just what these rooms might contain, you are also invited to reflect on a variety of themes. 
I wholeheartedly wished a bigger budget for the company along with a more refined and detail-oriented designers.  The tech aspects of the show lack weight and polish.  This makes them no match for the finely tuned, impeccably paced acting.  The idea is there, but it demands a larger scale and perhaps the show would be better off as a site-specific event. 
I should warn you though, I am a picky stage perfectionist and a huge sucker for eye-candy, so take my opinions with a grain of salt. Still, one can only wonder what a higher level of design would do for the already fantastic energy of the tremendously likeable, excellently-rehearsed cast.
For those who prefer a direct linear narrative, something that makes it's 'meaning' somewhat explicit, this may not be the show for you.  Of course, if you're thinking of trying out a different form of theatre, the prowess of the performers in this show might make it be the ideal one to cut your teeth on.  See how you feel having to make your own meanings and connections, it may be more comfortable than you expect.
For the audience member with a more jaded palette, desensitized to post-modernism over the course of, say, several years of post-graduate theatre studies, the show's concepts might feel a tad redundant. Those people can take pleasure in the engaging soundtrack, as well as the fine acting and wonderful energy of the cast.
Indeed, if you are going to see this show for one reason, make it to witness the actors at work.  Their use and manipulation of time sent chills down my spine on several occasions. The entire 70 minutes are meticulously choreographed, even when the pace slows down a tad too much, leaving no twirl, twitch or eye-roll up to chance.
The show is about stories that we make ourselves. What do you see?
Details
– The Cleansing of Constance Brown is playing at the EnWave Theatre (231 Queens Quay West) until May 9th 
– Show times are: Thu May 7, 2009  – 6:30pm and 9pm; Fri May 8, 2009 – 6:30pm and 9pm; Sat May 9, 2009 – 2pm and 8pm
– Tickets are $40 and available through the Harbourfront box office at 416-973-4000
Or online 
Photo by Ed Dimsdale