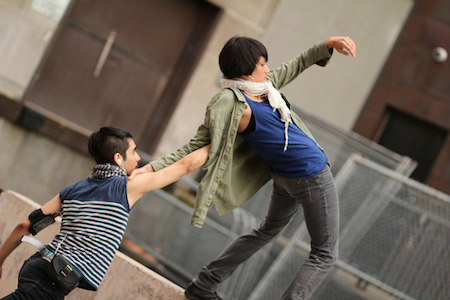 Jacqueries, Part 1, playing as part of Toronto's SummerWorks Festival, is an immersive theatre/dance performance overlaid with music and visual elements accessed via an iPhone app. The show is the creation of Jacob Niedzwiecki; a choreographer, filmmaker and coder, Jacqueries is the perfect outlet to combine Niedzwiecki's many disparate talents.
Immersive shows are an emerging trend in theatre. UK company Punchdrunk is the foremost example. Their wildly successful show Sleep No More, is an audience-immersive riff on Shakespeare's Macbeth.
Immersive theatre shows transport audience members from being passive observers and place them at the centre of the action. Punchdrunk's success has inspired other theatre artists to explore the form of immersive theatre and to push its boundaries. Jacqueries is an exponent of that exploration.
I first reviewed an early version of the show a year ago and was curious to see how the show had developed in the interim.
The basic elements remain the same; the show is a heist thriller primarily told through dance/movement, audience members download the show's app onto their iPhone or iPad before the show then they split into groups lead by different characters on different paths throughout the show.
The app is more robust with a few added bells and whistles. The app is our portal to access the performance. John Gzowsky's ambient electronic score plays through our headphones along with periodic instructions from a narrator. Short films play on the screen and provide a window to access other parts of the story. There's something I love about how the app layers this performance over a real-life setting where people walk by oblivious to the show taking place.
The blending of technology and live performance is most fully realized in one particular scene where we watch a dancer (Luke Garwood) through our phone camera as augmented reality layers are overlaid on the screen. The dancer interacts with virtual characters visible only on our screens, the effect is stunning.
Another improvement in this new version of the show is the real-world setting. Characters guide us through back alleys, into buildings and onto rooftops with stunning skyline views. The back alleys of Queen West are a perfect playground for the all too-brief parkour sequences even if they're sometimes a bit perilous (be sure to watch for passing cars).
The whole endeavour is clever and surprisingly well-executed given the tricky logistics behind executing a complex show with so many technical components.
Jacqueries is creative and envelope-pushing. My one gripe; I just wish there were more of it. The show clocks in at about 45 minutes and I thought each segment could have been expanded to develop more depth to the performance. I was left wanting more; more content, more character interaction, more dance, more augmented reality.
The reference to Part 1 hints that Jacqueries may be a serial. Hopefully we'll get to see further iterations of this innovative project that pushes the boundaries of immersive theatre.
Details:
Jacqueries, Part 1 is a site specific show starting at Theatre Passe Muraille (16 Ryerson Avenue)
Audience members must download a Show App (0.5 GB) to participate in the performance. Loaner devices are available for those who do not have the required technology.
Show times:
Thursday August 7, 7:00pm
Thursday August 7, 8:00pm
Sunday August 10, 7:00pm
Sunday August 10, 8:00pm
Thursday August 14, 7:00pm
Thursday August 14, 8:00pm
Sunday August 17, 7:00pm
Sunday August 17, 8:00pm
All individual SummerWorks tickets are $15 at the door (cash only). Tickets are available online at http://summerworks.ca, By phone by calling the Ticketwise Call Centre at 416-907-0468, in person at the SummerWorks Info Booth – located at The Theatre Centre (1115 Queen Street West) August 5th-17th from 10AM – 7PM (Advance tickets are $15 + service fee)
Several money-saving passes are available if you plan to see at least 3 shows
Photo by Vish Hansa