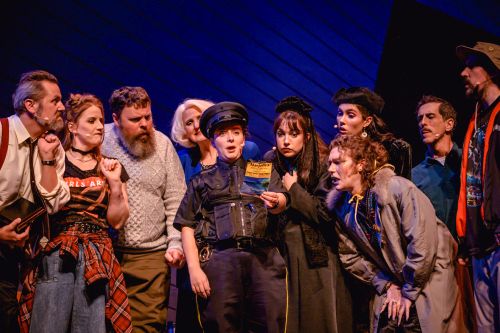 No Change in the Weather, a musical set in Newfoundland, is currently playing a limited run at the Mirvish CAA Theatre.  The pandemic provided Terra Bruce Productions with the opportunity to revise and hone the production which toured Canada from Newfoundland  in 2019.
The plot is built around the wake for matriarch Peggy O'Brien (Kelly-Ann Evans). Her son  Bill (Steve Ross) and friends take her coffin from the funeral parlour cum tanning salon. They transport it across the water in a less than sturdy boat to her house on the small island of God's Back Pocket. Peggy was the only person left living there. On the way across they sing a rollicking version of I's the B'y, complete with umpteen verses.
They carry in the coffin and coolers and while some of them light lanterns and candles the rest unpack platters of cheese and crackers and little sandwiches from the coolers. They all grab glasses of wine or bottles of beer, and the wake begins.
They tell stories about Peggy and about each other and they sing and dance.
Three spirits – Vi (Julia Dunne), Azzy (Erin Mackey), and Danny (Liam Eric Dawson) – show up to take Peggy to the afterlife but Peggy has an agenda and she isn't going anywhere until everyone is open about their secrets. The spirits are having a good time so they agree to stay.
Bill is estranged from his brother James (Duff MacDonald) who hasn't been home for 25 years and Bill is angry that Sally Brown (Vicky Harnett) told James about the wake. James left Jade (Seana-Lee Wood) at the altar and she swore she'd never come back after she moved out west. She's back with her daughter Liza (Melanie O'Brien) who wants to a) interview James because he was responsible for Churchill Falls, and b) find out who her father is.
Rounding out the group is Johnny (Steve Maloney) who used to be a fisherman with Bill until the stocks dried up and now delivers the mail; Richard O'Byrne (Philip Goodridge), an American who carries around his wife's ashes and is looking for her people; and Constable Banashee (Renée Strasfeld), a Mountie.
I love that in No Change in the Weather the acting is as strong as the singing and dancing. I also love that eight of the twelve cast members are from Newfoundland.
The cast are all wonderful singers but Ross singing Heavy Nets by Alan Doyle moved me to tears. It was a combination of the lyrics and Ross's voice.
The songs are a mix of traditional Newfoundland songs and newer songs, some written for the production.
There's a nine-piece band which the audience doesn't see but can, of course hear. They're great; plus they never drown out the singers, something that drives me crazy. Kudos to Pat Dempsey's sound design.
There were a few technical sound glitches at Saturday evening's performance. One stopped the show early on while it was fixed. They have nothing to do with the overall design though.
Victoria Wells-Smith's choreography is makes the dancing look natural. The dancers look as if they're enjoying themselves and the dancing looks like the kind of lively dancing I imagine I would see at a wake in Newfoundland. Very nice.
Gillian Gallow's set is fairly plain, which works well. On one side there's a door that we can't see that opens on to a landing with stairs down to the irregularly shaped main room. The wall across the back is shiplap on an angle and the coffin and a few mismatched chairs are lined against it.
Director Brad Hodder makes great use of the space. He keeps the cast moving around and their interactions all look quite natural, something I really like.
One thing that could go is the hairball. You'll know what I mean when you see the show.
There are really two plots in No Change in the Weather. One is personal – Peggy and her agenda, the other is political – Churchill Falls. In the program, which is 8.5″ by 11″, there are seven pages devoted to "The Sad Story of Churchill Falls". If you need seven pages to explain the sub-plot it seems to beg the question "Should you include the sub-plot?"
The story of Churchill Falls is incredible; there's no doubt that Newfoundland was a sacrificial pawn in a political game. I'd go to see a play about it. Sliding it in to a musical about a wake seems like a tricky way to reach an audience. I don't know if the story of the wake was added to lighten up the piece or if Churchill Falls was added to give it gravitas.
There are bound to be comparisons to Come From Away, both are set in Newfoundland, both are musicals, both are Canadian.
I really enjoyed No Change in the Weather. I loved the music, the singing and dancing were terrific, the acting was excellent. There were lots of funny moments and some touching ones to balance things. It was a great evening. You should see it.
Details:
No Change in the Weather is playing until November 27, 2021 at the CAA Theatre (651 Yonge St)
Performance schedule: Tuesday – Saturday: 8:00 PM
Sunday Nov 21st & Saturday Nov. 27th: 2:00 PM
Wednesday Nov. 24th, at 1:30 PM
Tickets are $39 to $59
Tickets are available online or by phone at 1-800-461-3333
Photo of the Company of No Change in the Weather by Ritchie Perez