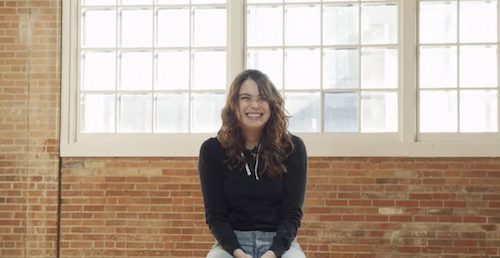 We all consume things we know that are bad for us, in order to escape, to connect, to feel. That's one of the messages of Mara Da Costa Reis's Fish Water, now playing in the Next Stage's 2021 virtual festival Community Booster as part of the Storytelling series.
Reis' story, which begins as an innocuous flirtation between a young woman and her Thai food delivery girl, contains an unexpected gut punch.
That gut punch is both real and metaphorical. Like her brother, the narrator is deathly allergic to nuts, making a Thai food order a potential gamble. Her only companion in her apartment has been her brother's fish, Fritz, but the fish has died. Now, all she has is a bowl of murky-looking "fish water."
In the meantime, like the bowl of water, she describes herself as "festering," trying to create, but feeling lonely and out of – literal – touch. She watches others live their normal lives, exercising and working. Instead, the chip bags are piling up on her floor, and she desperately orders more Thai every day to give herself another opportunity with the woman who delivers it.
There's a lot going on beneath the surface of this seemingly simple story, but it all manages to come together.
One of the themes in Fish Water is contagion. There's the happy contagion of two people feeding off each other's attraction, but also the terrifying meaning of the word in a world where we refuse to share air.
Another theme is that our own reactions to the world around us help determine how our lives go, and whether or not we survive. Do we give up, or persevere? After all, during an allergic reaction, it's your own body's defensive response to a stimulus that kills you.
Reis weaves stories of her allergies with a list of romantic chances gone wrong, almost like her body is rejecting the other person or the situation along with the food.
Occasionally disappearing into her own world as she speaks to the camera, she quickly transitions from flighty to rueful, sounding like she's pulling the story out of herself. It's not always the most natural delivery, but it works with the mood and themes of the piece.
Her use of the bowl of fish water itself is visually striking and, at one point, viscerally uncomfortable. I wished I were in a theatre at that moment, sharing air, because I think there would have been some audience gasps.
Details:
Next Stage Community Booster is a virtual festival. Once you buy a pass, you are able to access content behind the website paywall.
Ticket packages range from Tip What You Can to $100 depending on what you choose to access. See the website for ticketing information. (This, and 8 other stories, can be accessed through the Storytelling stream for $25 or is included with the Community Booster Membership for $100)
All digital content will be available as of 12:01 am on Thursday, January 21, 2021, and will be available until 11:59 pm on Sunday, January 31, 2021.
Download the digital brochure
Photo of Mara Da Costa Reis provided by Toronto Fringe