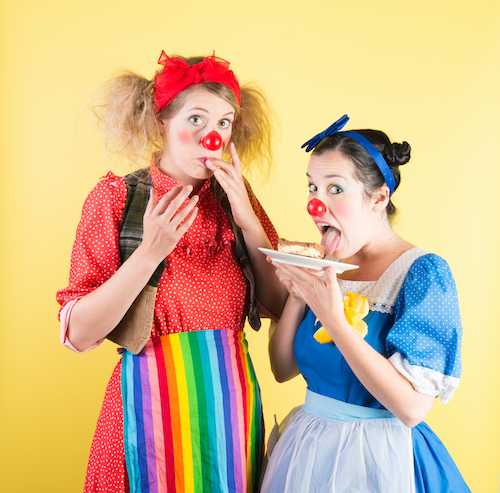 In Morro and Jasp's new offering, a one-night fundraiser for the virtual 2021 Next Stage Community Booster called Bake Your Heart Out, the two clown sisters are up to their old tricks. The inseparable duo has finally come up against a directive to be separate, and a baby on the way makes their divide even more palpable. However, that's not going to keep them from sharing their screens – and hearts.
A special show to celebrate our kitchens "because we can't go anywhere else," Bake Your Heart Out's argument is that food brings people together. Jasp (Amy Lee) insists that their cooking show is about family and togetherness rather than competition, while Morro (Heather Marie Annis) dons an Iron Chef-worthy battle outfit and smashes through fruit.
Most of Morro and Jasp's shows achieve a warm, familial feeling based on two elements: the frustrating but loving relationship between the sisters, and a healthy dose of audience participation. In the latter vein, the audience received a cookie recipe in advance of the show, and anyone who purchased the ingredients could bake along in real time.
As well, a VIP tier allowed some bakers to visibly participate. Turning on their cameras, they created their own offerings of fancifully-decorated cookies, made hors d'oeuvres of saltines and cheese strings, and bravely engaged in a condiment-eating challenge from Morro.
Because we were watching their reactions as part of the show, it effectively replicated the feeling of a live audience. Having the two tiers of admission was a smart idea for this scenario; it allowed the performers to have "volunteers" who got a little extra out of the experience in exchange, and it allowed the rest of us to witness it vicariously without having to expose our messy living rooms to scrutiny.
It also worked because the performance struck a balance between stretches of audience participation and scenes of Morro and Jasp alone. Deeply familiar with each other, their well-timed banter remains, even if singing in chorus is nearly impossible due to Zoom lag. They make good use of the screen, choreographing a nearly-seamless "handoff" of an egg.
The disastrous cooking experiments were very entertaining, including a very unrealistically-prepared mac and cheese, and Morro's surefire recipe to hasten labour.
What sticks with me, though, were the moments of pain buried underneath the humour, popping through in contrast, like the salt in a salted caramel cookie. Four hours before the show, I attended a Zoom baby shower where we all keenly felt our inability to gather in person; it made Jasp's meltdown at the lack of Morro's physically present support feel all too real.
I must agree with her: some emotional support cheese does sound very good about now.
Details:
Bake Your Heart Out was a one-night fundraiser on behalf of the Next Stage Community Booster, performed Saturday, January 23, 2021.
Next Stage Community Booster is a virtual festival. Once you buy a pass, you are able to access content behind the website paywall.
Ticket packages range from Tip What You Can to $100 depending on what you choose to access. See the website for ticketing information.
All digital content will be available as of 12:01 am on Thursday, January 21, 2021, and will be available until 11:59 pm on Sunday, January 31, 2021.
Download the digital brochure.
Photo of Heather Marie Annis and Amy Lee provided by Toronto Fringe