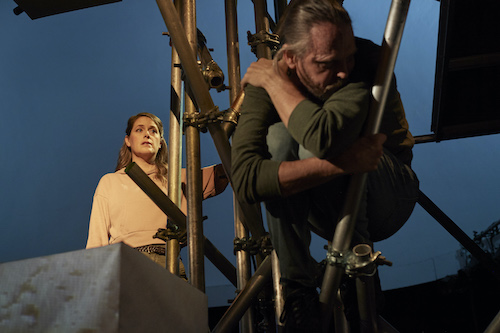 Theatre Gargantua's A Tonic for Desperate Times, the company's return to live theatre at the historic St. Anne's Parish Hall, is just that: a look at the seemingly insurmountable personal and global stresses in our current world, which offers a degree of optimism and hope with its harsh realities.
A devised work directed by Jacquie P.A. Thomas and written by its perfomance ensemble, Heather Marie Annis, Sierra Haynes, Alexandra Lainfiesta, Michael Gordon Spence and Nabil Traboulsi, the show's intent is to provide catharsis for a burnt-out, weary public. However, its goal isn't to sugarcoat topics of illness, poverty, violence, and xenophobia; as any good catharsis requires the storm before the calm, the show pushes through the panic before showing us ways of coping.
Theatre Gargantua is known for its very physical shows featuring arresting projections, music, and multimedia, and this edition is no exception. Right from the opening, an understatedly mournful song promising "hope for the hopeless," the cast fills the space with layered harmonies and bright stringed instruments. Haynes' fiddle provides a particularly warm and welcoming lilt throughout the show. At first, it's kind of a sonic wall, hard to make out the individual words, but soon the actors find their rhythm and it coalesces into something meaningful.
The set, a sort of industrial tree made of scaffolded pipes (designed by Spence), looms overhead. This "industree" bears the fruit of multiple lantern-like boxes that serve as receptacles for projections (designed by Laird MacDonald, Jack Considine, and Sujania Uthaya Shankar); in one of my favourite moments, an animated projection joyfully floats from box to box. A second screen stretches over the stage, providing layered visuals that incorporate both pre-filmed footage and live acting and drawing.
From a Newton's pendulum wave to a multiplicity of electronic devices to a delightful puppet, there's always something to hold our attention. A repeated physical action, where cast members contort their bodies as though they are sprouting from the earth, is  memorable; it suggests a difficult but rewarding process of growth and renewal.
Each actor gets a pair of monologues, one despairing, the other hopeful. The pairs of monologues are linked, and the second reflects on the first. Memories of death pale in the face of new life, the terror of being alone gives way to the exhilaration of self-reliance, and an immigrant in a gray new country finds bright colours in her connection with others.
An especially effective metaphor used in the production is that of the beauty and wonder of a cloud of thousands of starlings moving in tandem, forming intricate patterns. That such a finely-tuned, large-scale machine can be made up of individual birds that only influence the beings directly around them is astonishing. It also serves as a reminder of the importance of local action in the face of global despair.
I find that one of the best tonics for terrible times is humour, and I felt the show could have made more use of it. A couple of moments shone through, such as when the cast addresses those breaking points when a tiny thing becomes the last straw, or when a list of rules upon rules is ludicrously extended. The moments of laughter became moments of collective breath-taking, breaking the play's tension in a way that might have been effective to exploit further.
That being said, I found myself fully engaged in the snapshots of life, which are delivered unflinchingly and emotionally by a passionate, sharp cast. It is easy to identify with their pain and their joy, and the primary focus on individual stories means that the show covers just enough, acting locally instead of trying to take on the global ideas we're all tired of rehashing.
Very occasionally, the content strays into a kind of "Chicken Soup for the Soul" aggressively heartwarming tone, but to be honest, I liked that, too. By the time the actors reached out to us near the end, I was crying. I doubt I was the only one.
Many people are surprised to learn that tonic water contains as much sugar as a regular can of Coke. The extreme bitterness of the quinine requires as much added sweetness as the water can handle to even be palatable. Like a can of tonic water, A Tonic for Desperate Times retains a veneer of bracing astringency to it; this is still our reality. But the sweetness of its heart provides the comfort we need to pour ourselves a glass, drink deeply, and move forward.
Details
A Tonic for Desperate Times plays until November 14, 2021 at St. Anne's Parish (651 Dufferin St.)
Shows run Tuesday-Saturday at 8:00PM, with Saturday and Sunday matinees at 2:00PM. There is a Sunday 8:00PM show on November 7th.
Tickets are $20-24 and can be purchased online.
The show runs approximately 70 minutes without an intermission.
Photo of Heather Marie Annis and Michael Gordon Spence by Michael Cooper